Thank you for visiting Troy Ermish Inc.  Your one stop shop for all your Datsun needs.
Remember "It's only fun when you're winning!"
Business Hours:
Mon-Fri 9am-5pm pst (Closed from 1-2pm for lunch)
Saturday & Sunday by appointment only.
SHOP THE ONLINE STORE TODAY!
The 2022 Season is here, we are excited to get back to racing. Below is the LATEST schedule of events.
SEPT 24 / OCT 2 SCCA **RUNOFFS** VIRginia International Speedway
SEPT 30th  - OCT 2nd. CSRG Charity Challenge. Sonoma Raceway
OCT 14th - 16th VELOCITY Laguna Seca
NOV 4th- 6th CSRG Thunder Hill Raceway Park
Please keep an eye out on our social media for updates to the event schedules.
@datsun510queen
 
Ermish Flips his fortunes to win GT3.
The final Hagerty Race Day at the 58th SCCA National Championship Runoffs began early this morning with the GT-3 race on Indianapolis Motor Speedway's (IMS) 15-turn, 2.592-mile road course. Under overcast skies, Tire Rack Pole Award winner Troy Ermish of Tracy, California, led the field to the start and was promptly shuffled back behind several competitors.
As the cars reached their braking and downshift point into Turn 1, the low-light conditions created a brilliant scene as fire shot from exhaust pipes on several cars. It was Michael Lewis of Poway, California, who entered and exited Turn 1 with the lead on the opening lap.
After the brief setback, Ermish's No. 38 Rebello Racing Engines/Goodyear Nissan 350Z was soon tucked right up under Lewis' No. 32 Goodyear Mazda RX-7 for the opening two laps. Going into Turn 1 to begin lap three, however, Ermish moved by Lewis and continued to build a lead of more than 10 seconds at one point during the race. Unchallenged for the remainder of the 19-lap event, Ermish claimed his second National Championship in seven Runoffs starts.
Troy Ermish Inc, Is proud to announce the arrival of our AKC BHT Pembroke Corgi Sparco. 
Little Sparco was born on Aug 5th, 2021 and came to us all the way from Windsor, MO bred by Weatherby's Corgis. He's been just the excitement that we needed here at the shop. If your in the area or at the track be sure to stop by and give Sparco some pets and a cookie! 
SHOP MASCOT SPARCO ERMISH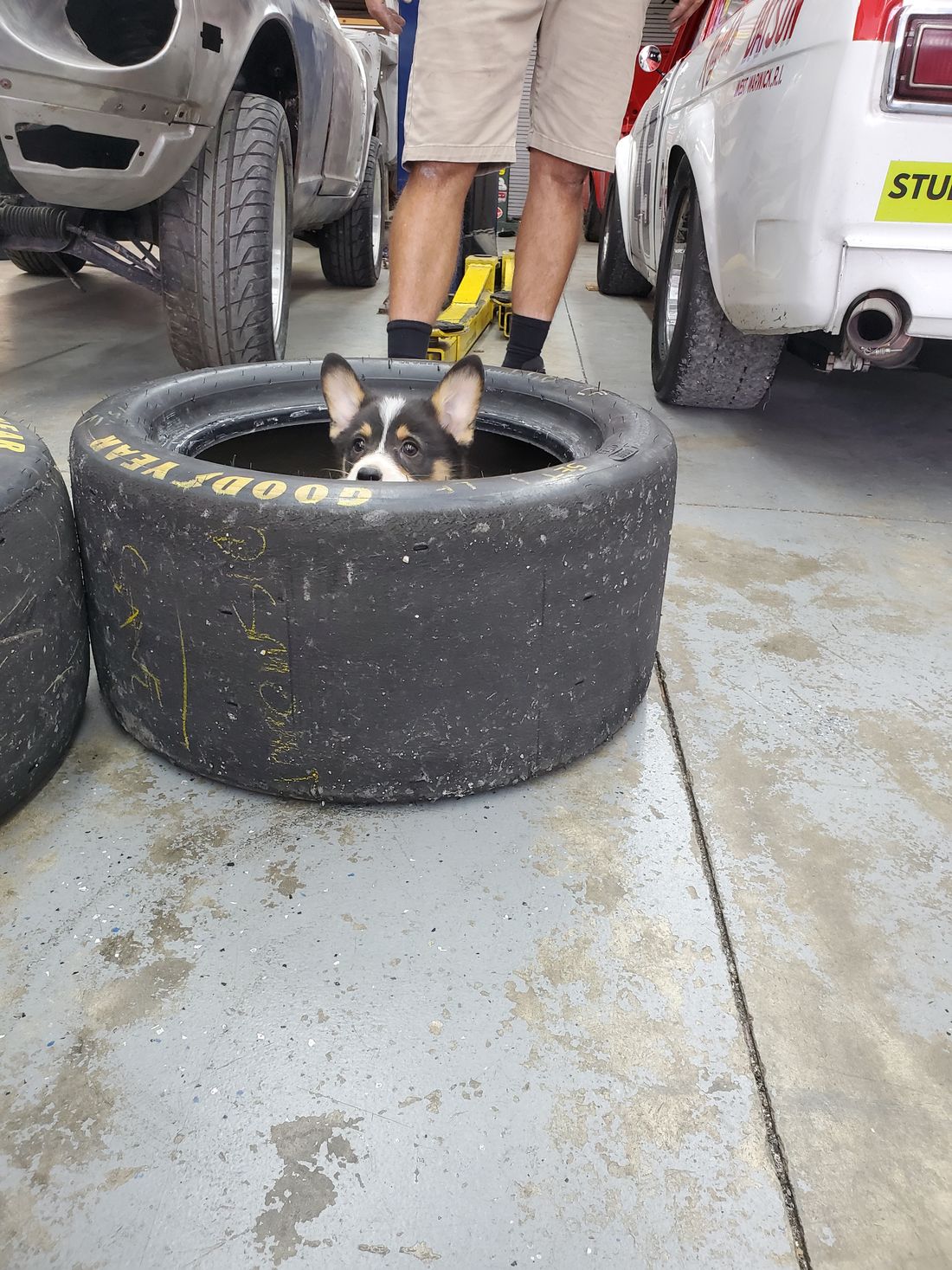 You are visitor number: 196945